Speaker:  Lida Maxwell, Boston University
Title:  The Use of Love
Topic:  PT Workshop
Time:  Friday, May 21st; 4:00pm PST
*Please note that the attached chapter is from Professor Maxwell's book project on queer love*
ZOOM LINK:
https://ucla.zoom.us/j/8217815316?pwd=dlU4enhrUTVBOVFSUFhRamJsd2dwdz09
Meeting ID:  821 781 5316
Passcode:  4289
One tap mobile
+12133388477,,8217815316#,,,,,,0#,,4289# US (Los Angeles)
+16692192599,,8217815316#,,,,,,0#,,4289# US (San Jose)
——————–
The password-protected paper is both attached and available on the PT website at
https://polisci.ucla.edu/events/workshops/political-theory-workshop
The password is (case-sensitive) UCLAtheory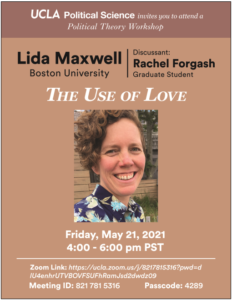 Abstract:
This chapter of my book project, "Queer Love," examines how the experience of queer love puts normal "uses" of love into question, and reframes the nature of "use" – of objects, people, non-human nature, institutions etc. – for queer lovers more generally. The chapter focuses on the relationship between Rachel Carson and Dorothy Freeman, as well as Audre Lorde's account of the erotic, while also examining some of Carson's early writings while she worked at the Department of the Interior. A central claim of the chapter is that the use of love and the use of non-human nature are connected, and that when queer love puts the nature of "use" into question, this happens in part through unfamiliar uses of non-human nature.