Speaker:  Jacob Levy, McGill University
Title:  "Quite obscure until now:" Montesquieu's constitutional history, foundings, and the modern state
Topic:  PT Workshop
Time:  Friday, April 16th; 4:00pm PST
ZOOM LINK:
https://ucla.zoom.us/j/8217815316?pwd=dlU4enhrUTVBOVFSUFhRamJsd2dwdz09
Meeting ID:  821 781 5316
Passcode:  4289
One tap mobile
+12133388477,,8217815316#,,,,,,0#,,4289# US (Los Angeles)
+16692192599,,8217815316#,,,,,,0#,,4289# US (San Jose)
——————–
The password-protected paper is both attached and available on the PT website at
https://polisci.ucla.edu/events/workshops/political-theory-workshop
The password is (case-sensitive) UCLAtheory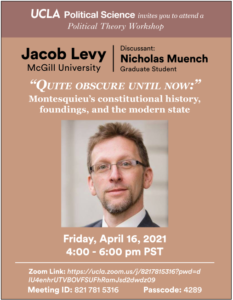 Abstract:
The concluding Part 6 of The Spirit of the Laws is by far the longest of the book's major sections— almost a third of the book's total length— but it is almost certainly the least-discussed and least-understood. It offers a legal and constitutional history of France which, even by Montesquieu's usual standards, offers few explicit normative conclusions and little by way of an explanation of its purpose. The material he discusses is obscure to contemporary readers, and so Part 6 is typically either ignored altogether or identified in a summary way with la thèse nobiliaire. In this chapter I will offer an interpretation of Part 6 and its purpose in the book, and use that to illuminate Montesquieu's understanding of constitutional foundings and the emergence of the modern European state throughout SL, and, more tentatively, in The Persian Letters as well. Montesquieu rejects all of the contemporaneous theories of political normativity grounded in foundings and origins— la thèse nobiliaire as much as la thèse royale, historical contractarianism as is found in the monarchomachs and hypothetical contractarianism In the Grotius-Hobbes tradition, and the obsession with foundings and founders seen in Machiavelli and republicanism. He demonstrates the falseness and impossibility of all of these, rejecting them as incompatible with the pluralism and institutional evolution that genealted the moderate and balanced era of the Gothic constitution, "the best kind of government which men have been able to devise." This government did not ultimately fail through its corruption, as one might think through reading the long discussion of regime types and their internal failure; it was itself such a corruption. Its merits were not based on a founding principle but on the institutional history traced in Part 6– a history that directs our attention to the social and political changes that did end the Gothic era, the rise of the modern Weberian state.