Speaker:  Colin Koopman, University of Oregon
Title:  Galton's Pride: The Resilience of Data-Driven Inequality
Topic:  PT Workshop
Time:  Friday, February 26th; 4:00pm PST
ZOOM LINK:
https://ucla.zoom.us/j/8217815316?pwd=dlU4enhrUTVBOVFSUFhRamJsd2dwdz09
Meeting ID:  821 781 5316
Passcode:  4289
One tap mobile
+12133388477,,8217815316#,,,,,,0#,,4289# US (Los Angeles)
+16692192599,,8217815316#,,,,,,0#,,4289# US (San Jose)
——————–
The password-protected paper is both attached and available on the PT website at
https://polisci.ucla.edu/events/workshops/political-theory-workshop
The password is (case-sensitive) UCLAtheory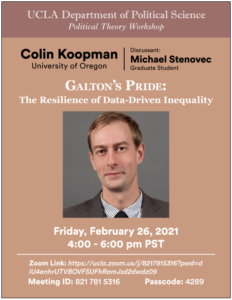 Abstract:
Francis Galton is today remembered as an eminent prince of science if not also as a wild crank who, at the end of the nineteenth century, helped spawn the grandiose political disaster of eugenics.  But moreso than prince or crank, Galton was first and foremost a tinkering technician of measure.  There are numerous domains of science over which Galtonian conceptions of measure retain considerable influence.  Not least among these are efforts in contemporary data science.  Yet as critical data studies scholars have recently shown, new deployments of data science risk a bevy of injustices.  Even where contemporary sciences officially disclaim the inegalitarian moralities of racism that funded Galton's eugenics, they maintain other of his foci, such as that on the family, and thereby risk, perhaps even invite, social inequalities.