Speaker:  Neil Roberts, Williams College
Title:  Angela Y. Davis: Abolitionism, Democracy, Freedom
Topic:  PT Workshop
Time:  Friday, March 12th; 4:00pm PST
*Professor Roberts' attached paper is a chapter from the recently published book
African American Political Thought: A Collected History, Edited by Melvin L. Rogers and Jack Turner*
ZOOM LINK:
https://ucla.zoom.us/j/8217815316?pwd=dlU4enhrUTVBOVFSUFhRamJsd2dwdz09
Meeting ID:  821 781 5316
Passcode:  4289
One tap mobile
+12133388477,,8217815316#,,,,,,0#,,4289# US (Los Angeles)
+16692192599,,8217815316#,,,,,,0#,,4289# US (San Jose)
——————–
The password-protected paper is both attached and available on the PT website at
https://polisci.ucla.edu/events/workshops/political-theory-workshop
The password is (case-sensitive) UCLAtheory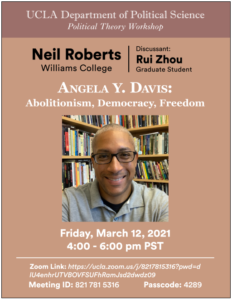 Abstract:
The essay begins with a discussion of the movements, texts, and figures—notably Herbert Marcuse—both central to the intellectual development of Angela Y. Davis and most representative of Davis's political thought. It frames Davis's body of work as a form of fugitive theory and practice whose nineteenth-century intellectual roots provide a unique vista only partially mined by contemporary theorists frequently associated with fugitive thought. It turns next to an examination of three concepts foundational to the work of Davis: abolitionism, democracy, and freedom. Davis's analyses of W.E.B. Du Bois and Frederick Douglass are vital to elucidating these notions. The chapter argues that the understanding of abolitionism Davis marshals mediates her articulations of democracy and freedom in late modernity. Inclusion of Davis's views on resistance and liberation reinforces this reading. Davis does not claim to invent all or even most of the categories and terms integral to her thought. It is the way she integrates older and new concepts into a defined political system concerned with actors and institutional arrangements that distinguishes her. Deciphering how Davis arrives at her core tripartite ideals challenges us to refashion facile, sanitized origin narratives of the contours of African American political thought.
———————————————————-
Belinda Sunnu
Special Events Coordinator/Recruitment
UCLA Department of Political Science
4289 Bunche Hall, Box 951472
Los Angeles, CA  90095-1472
310-206-7558 (Phone)
310-825-0778 (Fax)
———————————————————-