Leonard Freedman, 1924–2020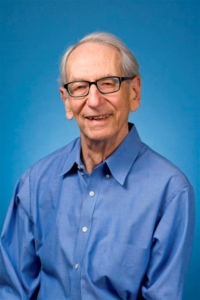 With profound sorrow, the UCLA Department of Political Science reports the passing of Professor Leonard Freedman, Professor Emeritus of Political Science and Dean Emeritus of UCLA Extension and Continuing Education, on September 30, 2020.  Len leaves behind his wife Vivian, his children Elizabeth, Ali, Dave, and Steve, and his grandsons, Brian, Scott, and Gabriel.  Prof. Freedman's passing is a tremendous loss to our department, to the university, and to the discipline.
Len was born in London, England, and served in the British army during World War II.  At the end of the war he was part of the British army of occupation in Germany, and as the only recruit in his division with a secondary education, he was named director of the regimental school in Hamburg.  He remained there for two years, and thereby began his career as an educator.
 Len received his Bachelor's degree from the London School of Economics and Political Science in 1950 and then came to the United States for graduate study at UCLA, where he received his MA in 1952 and PhD in 1959.  As professor of Political Science at UCLA, Len specialized in British and American politics, and served as Dean of UCLA's continuing education program from 1965 to 1988.  After retiring in 1994, he taught a seminar in Political Satire in the Undergraduate Honors program.
Over the course of his career, Len published many books, which include observations that are remarkably prescient.  In his 1987 book Quality in Continuing Education: Principles, Practices, and Standards for Colleges and Universities, Len compares continuing education with traditional undergraduate teaching, observing that "Continuing education should be learner rather than teacher centered. . . . The adult learner should be self-directing rather than dependent and should participate actively at every stage. . . . The teacher/facilitator should enter into a partnership with the learner. . . . The success of this partnership requires that a climate of mutual respect and trust be established. . . . [T]he expert is on tap, not on top."  These guiding principles which originated in continuing education are now widely taken for granted in all undergraduate teaching, perhaps indicating that since 1987, educators, as well as students, have grown more mature.  In his 1969 book Public Housing: The Politics of Poverty, based on his doctoral dissertation, Len writes, "The outraged reactions to the decision by white homeowners and their political representatives" to create public housing in the 1960s "were depressingly reminiscent of the attacks on public housing during the 1950s."  Len's argument that housing scarcity in the United States illustrates "the profound weakness of the poor in the American system of politics" remains depressingly reminiscent today, more than fifty years later.  Len's 2009 book The Offensive Art: Political Satire and Its Censorship around the World from Beerbohm to Borat was perhaps the first book to comparatively analyze, with examples from around the world, the interaction between satirists and censors.
Len gave extensive lectures on political issues and received two prestigious UCLA teaching awards, the Distinguished Teacher Award in 1967 and Most Inspirational Professor in 1966.  As one student put it, "I met him . . . and became his disciple ever since."  He received numerous awards, including the Kellogg Fellowship from Oxford University, in recognition of his contribution to continuing education, and acted as continuing education consultant to universities in the United States and abroad.
After retirement, Prof. Freedman pursued a wide array of interests, including being an avid football fan and maintaining his blog, Strictly Satire (https://strictlysatire.azurewebsites.net/), which features many satirical verses he composed, as well as audio recordings of him singing them.  He self-published his verses in a book intended for family and friends entitled Incredible Times, which he describes as "a book of sardonic reflections on my many years of observing and reviewing American and world politics."  The Wednesday Group, which started in 1992 and was composed of emeriti who met for lunch on Wednesdays at the faculty center to discuss issues of interest, was very important to Len, who was its oldest and longest serving member.  As one colleague said, "He was our go-to person for politics and Britain. . . . His musical satires on politics were always a joy to behold.  We will miss him grievously."