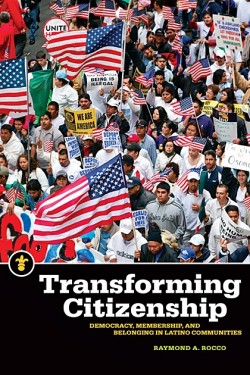 Transforming Citizenship: Democracy, Membership, and Belonging in Latino Communities
Raymond A. Rocco
Dominant theories of diversity and citizenship in political theory and other scholarly work come up short in terms of addressing the racialization of Latinos as citizens of the United States, and therefore cannot fully explain why — in the 21st century — "full, equal, and just inclusion in societal membership" remains an unachieved goal for many, if not most.  In Transforming Citizenship, Prof. Rocco instead calls for an understanding of an "associative citizenship" status for those still marginalized as American citizens, in spite of 150 years of political action aimed at contesting and correcting this inequality of citizenship roles.
Prof. Rocco's new book is part of the "Latinos in the United States" series published by Michigan State University Press
Click here to read more about the book.