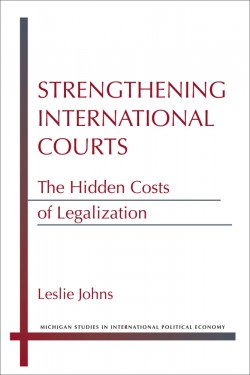 Strengthening International Courts: The Hidden Costs of Legalization
Leslie Johns
In Strengthening International Courts, Prof. Leslie Johns investigates the ways in which the strength of international courts affects dispute settlement, compliance, and the stability of the international economic and political system. By examining detailed case studies of the International Court of Justice and the transition from the General Agreement on Tariffs and Trade to the World Trade Organization, the author finds and reports that a court's design — whether "strong" or "weak"  — has nuanced and mixed effects on international cooperation. The book concludes with recommendations for promoting cooperation between the courts and the states and international organizations for which they adjudicate cases.
Prof. Johns's new book is part of the "Michigan Studies in International Political Economy" series published by University of Michigan Press.
Click here to read more about the book.