Advisors
Kathy Escobedo (on leave until further notice)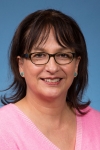 Undergraduate Counselor
4269A Bunche Hall
(310) 825-3862
escobedo@polisci.ucla.edu
Office Hours: Mon, wed, Thurs-Fri 8:30am – 5:00pm, Tue 8:30am – 3:30pm
Kathy is the department's Senior Undergraduate Advisor: Kathy counsels undergraduate students on University and departmental requirements for the major. Processes petitions and provides students with campus resources. She can also assist with A/V needs for faculty courses, online book ordering and course scheduling.
Please submit your inquiries through the MyUCLA Message Center feature:
Go to MyUCLA (http://my.ucla.edu/) Select the "Sign in" button.
You will be redirected to the UCLA Single Sign-on page to sign in to MyUCLA.
After a successful sign-in, select "Need Help?" from the top menu. Then, select "Message Center" from drop down menu.