In an effort to reduce the possibility of illness caused by the coronavirus, the Department of Political Science will be reducing staff's physical presence in the office for the next 2 weeks. Staff will continue to be available via remote access, and can be reached via email, or can return phone messages left on their work numbers, or can schedule Zoom meetings, as necessary. Since this is a fluid situation, the remote presence may be extended at a later date into the first few weeks of Spring quarter, but for now, most staff will be available electronically through March 27. To get in touch with specific staff members, please contact them via the email addresses below (or provide a link).
For students trying to schedule a counselling appointment a link has been provided through the undergraduate listserv using Google calendar. Here is a visual sample:
When they select an appointment time they will need to input the following information in the box seen below.
What: Name and University ID
Where: Zoom
Description: their email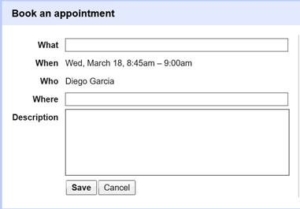 Diego Garcia will tentatively be available on Monday, Wednesday, and Friday 8:30-11:45a; Tuesday and Thursday 1:30-4:45p.