Date
May 11, 2017
Time
3:00pm
Contact
Kelli O'Leary
(310)825-4038
koleary@support.ucla.edu
iCal/Outlook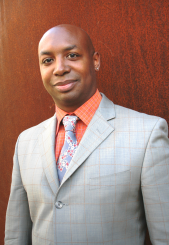 Laura E. Gómez
Interim Dean of Social Sciences
respectfully invites you to attend
a memorial service celebrating the life of
Professor Mark Sawyer
UCLA Departments of African American Studies and Political Science
Live stream will be available at the following link: https://youtu.be/0tBbtt5ILR0
Thursday, May 11, 2017
3:00 p.m.
UCLA Faculty Center
California Room
UCLA Campus

RSVP to koleary@support.ucla.edu or (310) 825-4038
RSVP early, seating is limited. Livestreaming will be available.
Self-pay parking available in Structure 2
Learn more about the life and career of Professor Sawyer
If you would like to make a gift to the Political Science subfield
of Race, Ethnicity and Politics in memory of Mark Sawyer,
please click here.