Sunday, June 18, 2017 at 9:00 a.m.
UCLA PAULEY PAVILION //
Video of the ceremony here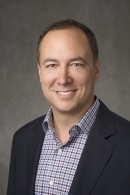 Keynote Speaker: Jim Lanzone
Chief Digital Officer for CBS, President & CEO of CBS Interactive, a division of CBS Corporation
Jim Lanzone is the Chief Digital Officer for CBS, President and CEO of CBS Interactive, a division of CBS Corporation (NYSE: CBS), and a perennial top 10 Internet property with more than 300 million users per month. Lanzone is responsible for the strategy and operations of CBS Interactive worldwide, which includes popular new services such as CBS All Access and CBSN, as well as leading properties such as CBS.com, CNET, CBSSports.com, Gamespot, CBSNews.com, TVGuide.com, Metacritic and CHOW. Prior to joining CBS Interactive, Lanzone was co-founder and CEO of Clicker.com, the leading Internet television guide. Clicker was acquired by CBS Interactive in March 2011. Lanzone is the former CEO of Ask.com (formerly Ask Jeeves), a top 10 global Internet property acquired by IAC/InterActiveCorp (NASDAQ: IACI) in 2005. From 2001-2008, Lanzone held various executive roles at Ask, including SVP of Product Management, General Manager of Ask Jeeves U.S., and finally CEO. Before moving to Ask, Lanzone was co-founder and president of eTour.com, a website discovery service that was acquired by Ask in May 2001. Lanzone holds a B.A. from UCLA and J.D./M.B.A. from Emory University.
Beginning Monday, May 22 and through commencement week students may sign up to walk in the Political Science Department Ceremony and order guest tickets at the undergraduate counseling offices in 4269A, B and the department main office in 4289 Bunche Hall.
Students participating in the Political Science Department Commencement are not issued a ticket to walk in the Political Science Department Ceremony. Guests to the Political Science Department Ceremony will need tickets to enter Pauley Pavilion.  The first four guest tickets ordered are issued at no charge. The fifth ticket and over is billed at $12 per ticket on Bruin Bill. Children not requiring their own seat do not need a guest ticket.
Please visit the College of Letters and Science web site for information that includes parking and disability resources. https://www.commencement.ucla.edu
Check with a political science undergraduate counselor about disability resources for graduates and guests attending the Political Science Department Ceremony.
Information for graduates and guests the day of commencement:
On Sunday, June 18, 2017, graduates assemble near Pauley Pavilion. Please arrive by 8:00 AM. 
 A processional into Pauley Pavilion will begin promptly at 8:45 AM. 
As graduates arrive to the assembly area name cards will be distributed. The name cards include a line for the phonetic spelling of your name to assure that announcers pronounce your name appropriately.
During the ceremony graduates are guided to the stage by event staff and hand their name card to a photographer's assistant.  Faculty members rotate announcing names as graduates walk across the stage. A photography company called GradImages uses the flip side of the card to collect addresses which are used to send photos taken as graduates prepare to step onto the stage, stand center stage and after stepping down from the stage.
Approximately 500 graduates are expected to participate along with 3,700 guests.  Guests should arrive an hour before the event. Seating is unassigned and is first come, first seated. The doors of Pauley Pavilion open at 8:00 AM. There are several ceremonies scheduled that morning so guests should allow ample time to park, walk to Pauley Pavilion, and find a seat. The event is anticipated to be 90 to 120 minutes.
SECURITY PRECAUTIONS DURING COMMENCEMENT
Although UCLA does not anticipate any security problems during Commencement, we are constantly monitoring the events to protect the safety and security of our guests. Please observe the following restrictions for all Commencement Activities on the UCLA Campus.
No large bags, back packs, large purses or items larger than 12 x 12
No firearms, knives, explosives or other weapons
No cans, coolers and other containers except in cases of medical need, as certified by a physician
No artificial noise makers, air horns or megaphones may be used
No large signs, flags, poles, banners, or laser pointers
No promotional items with commercial slogans or identification
No food or drinks are allowed in the individual commencement venues
Inspections of small receptacles (bags) might be required as you enter event venues
All Commencement venues have the authority to prohibit any other items deemed to be a security risk. Patrons will not be allowed to bring those items inside the event venues
These policies are subject to change without notice