The world is changing at breakneck speed; standing still is not an option for any institution, especially for top public universities like UCLA. Here, we are building on our strengths, embracing what's new, and getting ahead of the curve: by developing innovative models for teaching and learning, and fortifying our connections beyond campus walls.
Through mutually beneficial partnerships—with our alumni and friends in the professional world, government agencies, and community organizations—the Division of Social Sciences has long paved the way for continued leadership, impact and excellence. It is now time to consolidate and strengthen these partnerships, through Partnership UCLA.
RE-IMAGINING THE IVORY TOWER
The academic "ivory tower" of old is giving way to a more collaborative model for higher education, with partnerships forming a bridge between universities and the world outside academia. Through an active two-way flow of knowledge, experience, support, and talent, everyone benefits.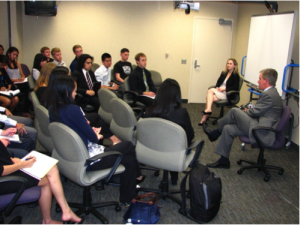 Imagine innovative programs in which professionals and community leaders share their experiences with groups of students in small seminars, or take part in panel interviews of top students for coveted summer internships at local and national organizations. Imagine students helping non-profit or other community organizations to enhance their effectiveness and impact. We have been piloting programs that do all of this, and more.Not only have these programs given students a competitive edge for success upon graduation, they have also strengthened our engagement with valued partners and the world beyond campus walls. Building on the success of these pilot programs, we are expanding this partnership model to include the Political Science Department, by launching
Partnership UCLA.
THE VISION: PARTNERSHIP UCLA
Partnership UCLA will achieve several goals. It will build connections with our alumni and friends to help political science students develop academic and professional skills in preparation for life after university. It will leverage expertise already gained from pilot programs in the division, and it will build a solid infrastructure for programs that benefit the Department's students, friends and alumni, and many community organizations.
Professional Development for Students:
Sharpe Fellows Internship Program/Mentoring
Distinguished Alumni Speaker Series
Support and leadership training for student organizations
Collaborative Instruction:
Engaging friends and alumni professionals in the classroom in lab courses
Student policy or case competition: design and implementation
Community Engagement:
Targeted community outreach to increase job and internship opportunities for students
Social Enterprise Academy
BENEFITS FOR...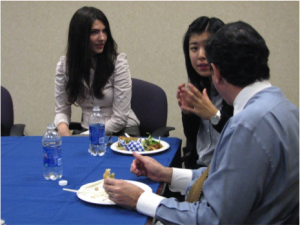 Students:
Optimal preparation for life after graduation
Networking and professional opportunities
Enhanced education experience
Gratification from service to the community
Alumni, Friends and Community Members:
Enrichment of students' education through guest speaker/instructor opportunities
Access to top students for internship and post-graduation recruitment
Opportunities to help shape and mentor future leaders
Access to expertise and research of UCLA faculty and students
Networking/renewed connections with alumni and friends

UCLA POLITICAL SCIENCE: UNIQUELY POSITIONED TO MAKE A DIFFERENCE
The UCLA Department of Political Science is ranked in the top ten nationally, due in large part to our cadre of distinguished faculty members at the forefront of their fields. Political Science is the second largest undergraduate major on campus.
As part of a world-renowned university with a public mission, the Department is committed to preparing students for successful lives as informed global citizens; we are equally committed to using knowledge as a force for positive societal change. Moreover, UCLA faculty and students benefit from myriad connections with vibrant communities of professionals, engaged citizens, and leaders in the culturally diverse area of Southern California, and the rest of the world.
Going forward, Partnership UCLA will be a key catalyst for strengthening these crucial connections to ensure the leadership, impact and excellence of UCLA Political Science in the 21st century.

PILOT PROGRAMS: SOCIAL SCIENCES DIVISION
Sharpe Fellows Internship Program
The Sharpe Fellows internship program was created in 2008 to engage UCLA alumni in supporting the career development needs of undergraduate students at UCLA. Named in honor of Nobel Prize-winning UCLA alumnus, William Sharpe, the program has been successful in bringing together top employers with our brightest students. Since its inception the program has doubled in size, from the involvement of six alumni to a network of more than 50. The program has attracted more than 500 applicants. Of those, 79 have been named Sharpe Fellows and have accepted internships at companies like KPMG, Saatchi & Saatchi, Walt Disney, Intel, GE, Kohl's-Retail Management, and Deloitte Consulting. And, most impressive of all, 100% of Sharpe Fellows have had offers of full-time employment at graduation.
Distinguished Alumni Speaker Series
Distinguished alumni are invited to campus on a regular basis to present a topic of interest related to their industry, or to career paths in general. These sessions, which are followed by Q&A; and/or a reception, are always interactive and informative for students and any faculty who might attend. Topics have included career and professional opportunities, life after the degree, and other subjects of special interest.
Lab Courses
Using a case study-based teaching method, instructors lead one-unit lab courses in which they introduce large, complex, unstructured problems that students must analyze, interpret and present to their peers. These small lab courses focus on strengthening students' analytical thinking, communication skills, and writing techniques, and link theory with the real world to provide them with a more comprehensive academic and applied skillset. Guest instructors from an accomplished pool of alumni and friends are brought in to share their experiences and professional advice.
UCLA Social Enterprise Academy
The UCLA Social Enterprise Academy is a six-month social entrepreneurship program in which groups of UCLA students partner with participating social ventures to develop earned income opportunities and to present their ventures to potential investors. The program is designed to link students with established not-for-profits that are looking to enhance the effectiveness of their mission. In winter quarter 2012, the Academy launched its first course, 
Introduction to Social Entrepreneurship
, in which students are introduced to the basics of business planning and then work in teams to develop a new revenue-generating business plan for the social enterprise to which they are assigned.
For more information, please contact Peter Evans, Associate Director of Development, UCLA Social Sciences, at (310) 825-8633 or pevans@support.ucla.edu.