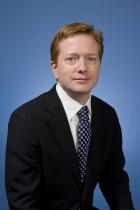 Welcome to our new pages. I hope you like them. They are just one of the ways that we are committed to doing a better job of staying connected with you and to helping you stay connected with each other.
We want to let you know what's going on here at UCLA and to help you keep up with all of the great things that your fellow PoliSci alums are doing out in the world. Among you are members of the United States Congress, a writer for the Washington Post, a Nobel Laureate, Rhodes Scholars, Peace Corp volunteers, business leaders, and the voice of The Simpson's characters Ned Flanders and Mr. Burns. We take great pride in you and hope that you take equal pride in each other. You can read more about the accomplishments of your fellow PoliSci alums on our updated Alumni Profiles page. We will be profiling members of the alumni on that page each month. If you have suggestions of people for us to profile, please send me and email. We will be using Twitter and Facebook to alert you to alumni news. If you have news that you would like to share, send an email to alumni@polisci.ucla.edu.
Another reason that we need to be more closely connected to you has to do with the difficult job market that we live in. No longer can graduates from even American's most elite institutions, like UCLA, be confident of finding a meaningful job after graduating. As a graduate of a liberal arts college, I know the advantages that coordinated alumni networks provide. By using LinkedIn and creating a registry of PoliSci alumni willing to talk to recent and soon-to-be graduates about career options, I hope to create a career network at the department level that will give our graduates a leg up as they transition from school to work. If you would like to participate in this effort, please email me.
This is an exciting and challenging time for the Department, UCLA and public higher education. As tuition increases and state support falls, we must reinvent ourselves. In particular, we must provide greater value to our students and do more to demonstrate the value of our scholarly mission to those who might underwrite it. We are counting on you to help in these efforts. Your donation will support our undergraduate and graduate teaching missions and our new school-to-work efforts. Whether you can donate or not, please follow our news, attend our events, tell your friends about us, and allow our incredibly talented and hardworking soon-to-be and recent graduates to share in your wealth of experience by volunteering to provide career counseling and advice.
Thank you for reading. I invite you to explore our new pages. If you have comments or suggestions on how we can better serve our 20 thousand strong alumni community, drop me line.
Best regards,
Jeff Lewis
Professor and Chair